Community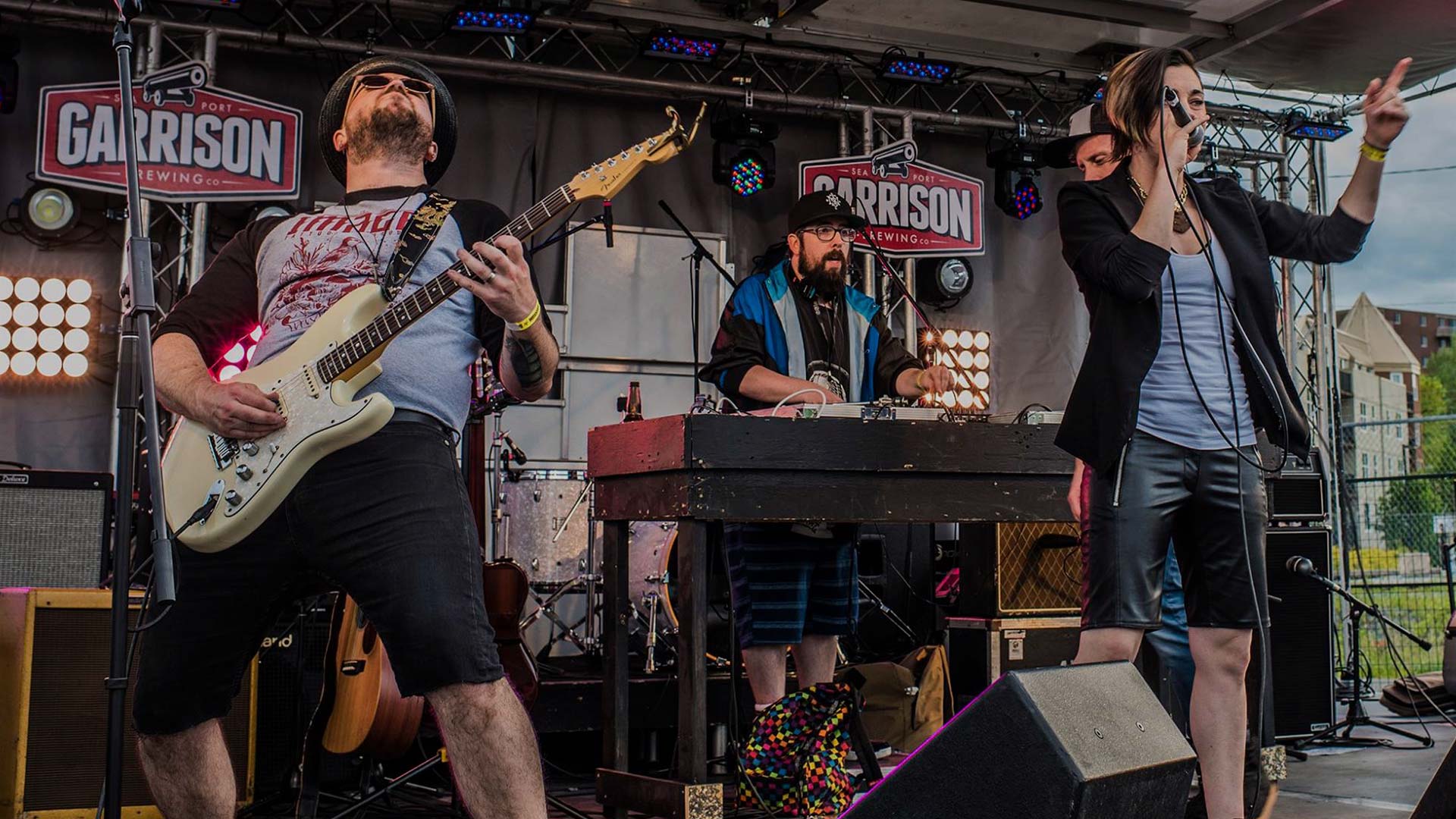 Ladies and Gentlemen Start Your Kettles for the 12th Annual Garrison Home Brew-Off
This year's Style will be 21B. Specialty IPA: New England IPA  for details about the style click here
This year's entree fee is $15 and includes a souvenir glass, one free entry to the gala and a complimentary Growlito and fill with the Garrison beer of your choice. To download the complete competition details click here
Beer Entries are due by end of day Monday March 2nd. To download the registration form click here
The 2020 Home Brew Off Awards Gala will be March 19 at 7pm at Garrison's Seaport Hall.
Good Luck & Drink Independently!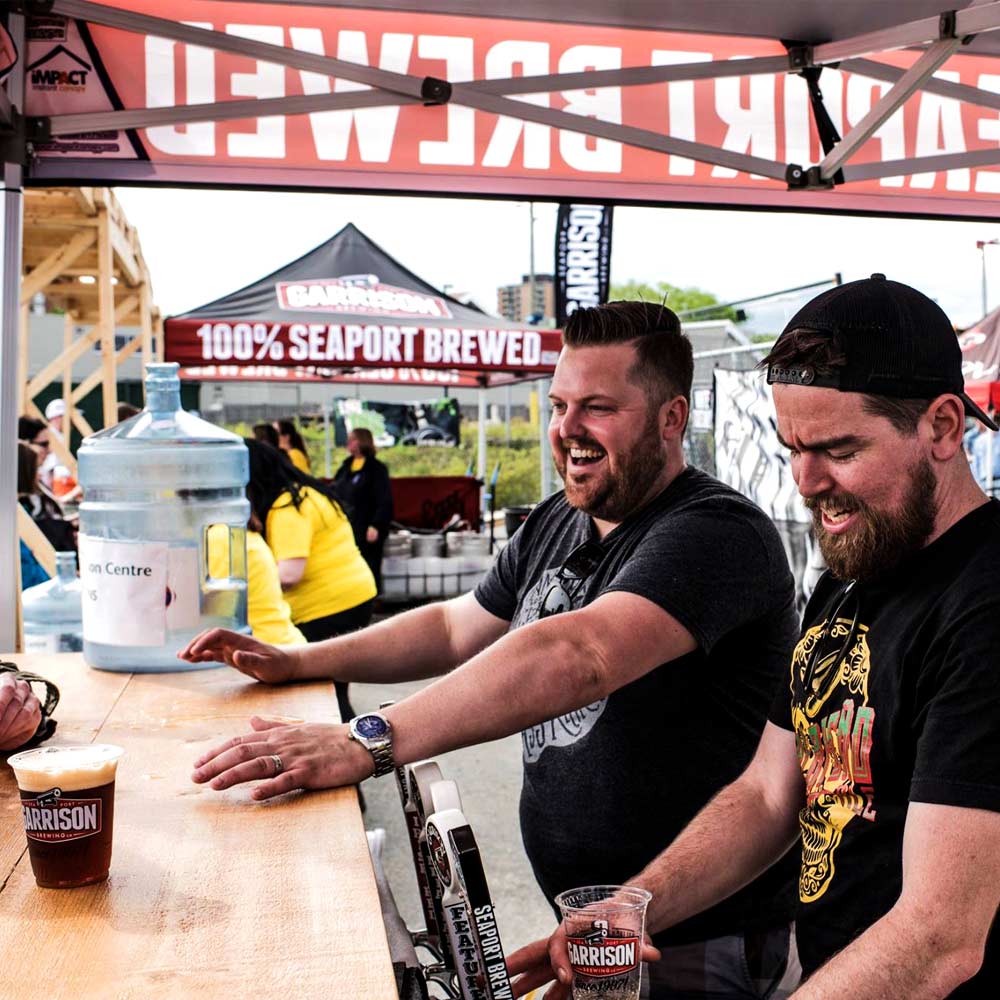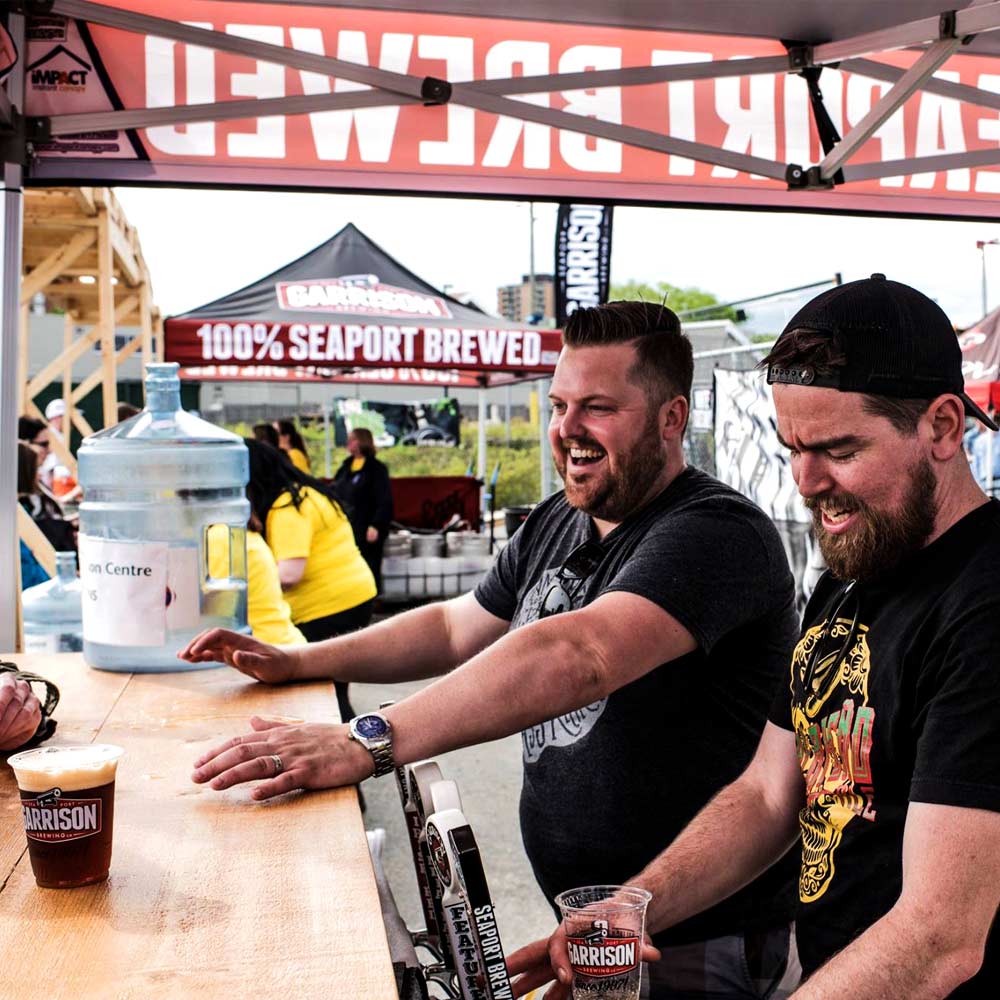 Holy Craft Beer we like to stay busy! Check out the events below that we'll be having fun at and make sure you drop by and say hello… or we may just come & find you!
Crave – November 3rd 2018 – The Canadian Progress Club – Halifax invites you to indulge in an all-inclusive evening of eating, drinking and partying – sip on crafted beers, fine wines and specialty drinks while enjoying a wide selection of exceptional cuisine. When you've had your fill, trade in your cups and plates for dancing shoes with entertainment from True North DJs. 100% of the profits generated from CRAVE go directly to local organizations that provide support to individuals of all ages with special needs. Our charities include The Club Inclusion, Kings Meadow Home, Special Olympics Nova Scotia, IWK Health Centre, and more.
Cape Breton Beer Fest – The 3rd Annual Cape Breton Beer Fest will take place Saturday December 1st, 2018 at the Joan Harris Cruise Pavilion (The Big Fiddle). There will be ONE Showing. from 7:00pm-9:30pm. VIP Ticket Holders may enter at 6:00pm to get an early start on sampling. Taps will be shut off at 9:30pm, you have until 10:00pm to finish you conversations and samples.
Cape Breton Beer Fest – Sydney, NS – Dec. 1st 2018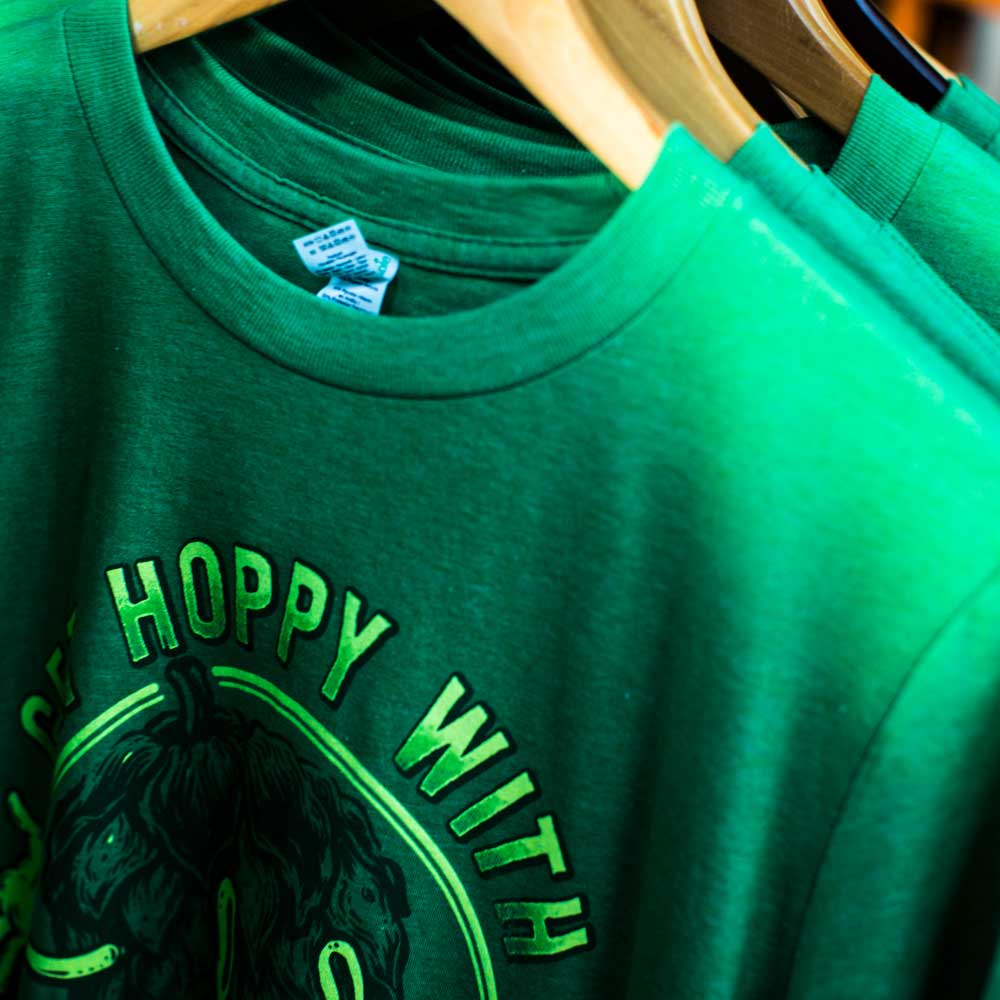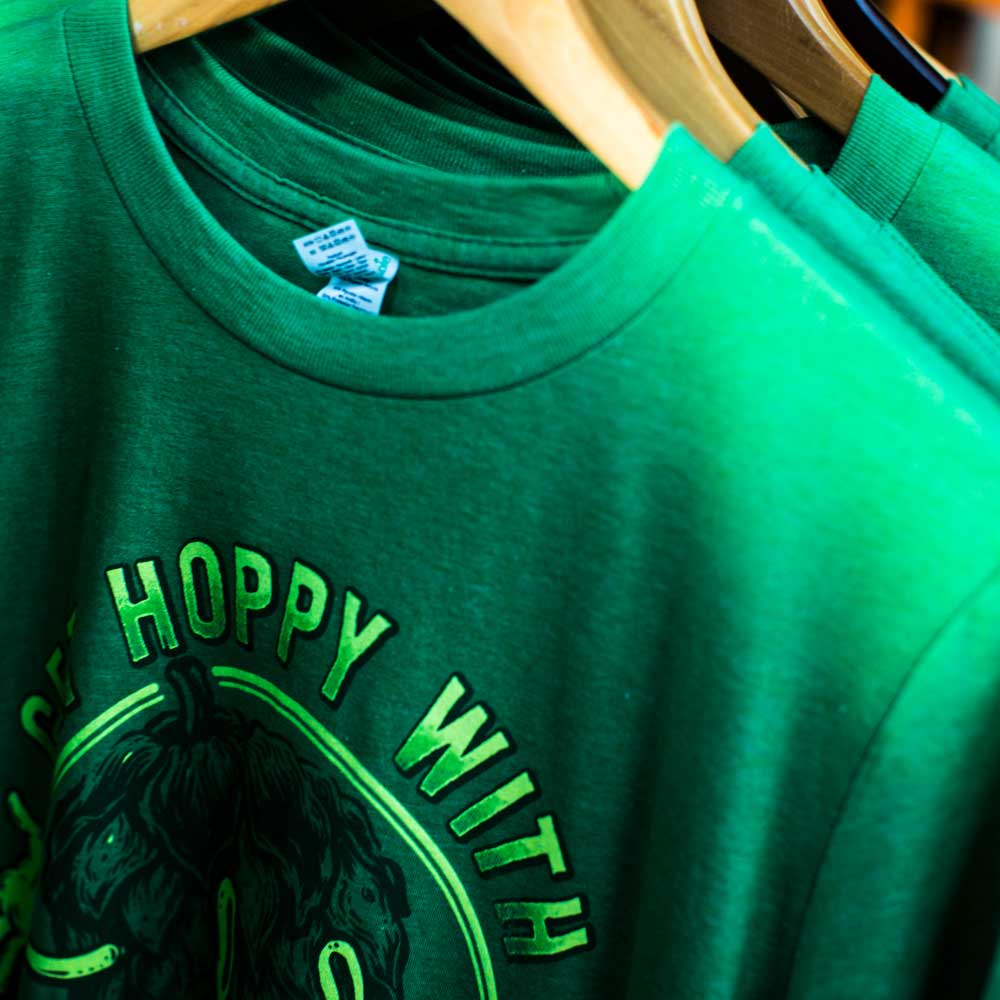 The Environment

Makin' Green Beer!
Can craft beer be green? Absolutely (just not for St. Paddy's Day!) At Garrison we strive to make great beer with as little impact & as much sustainability as possible. It's a commitment we stand behind & here are a few ways we live it:
Wastewater – we capture & direct all operations wastewater to a single point, sample & test in-house, separate & dispose of all high-strength discharge (yeast, trub, waste beer, etc.) & screen off the solids before sending on for treatment. Over to you Halifax Water!
Spent Grain – after we've removed the starches (sugars) & flavours from the grain, Bovidae Farms in Falmouth comes & takes it away to feed their dairy cows (no tipping please). Thanks Bob!
Solids Separation – We work with suppliers to reduce their waste materials at source. After that though, nearly everything gets broken into separate streams: paper, plastic, cardboard, pallets, scrap wood & steel
Energy Efficiency – Building our new brewery & refurbishing the older market brewery has allowed us to invest in improvements throughout: natural gas steam boiler, VFD pumps, energy-efficient lighting, water & heat recovery
East Coast Beer Gear – Most of our brewing & cellar equipment is designed & built in Prince Edward Island. Thanks neighbour!
3R's of Packaging – All beer packaging is either returnable (bottles & cans), reusable (growlers & kegs) or recyclable (cardboard trays/boxes, boxboard packs & metal crowns)
Corn Starch Cups – We've been using these nifty compostable/biodegradable cups for nearly a decade & we wouldn't serve you any other way. Guaranteed to break down in whichever stream they end up, it's just the right thing to do. Cheers to Green Shift Inc.!
Old Buildings/Good Bones – The Halifax Seaport has given us not one but two amazing opportunities to repurpose, refurbish & otherwise return to service an old, derelict building. Brick, steel & rough-cut wood, they just don't make 'em like that anymore!
Environmental Partnership – Garrison is thrilled to be a Sustainability Ally of Ecology Action Centre! By partnering together on the Backlot Bash we're making our event more green, fundraising for EAC causes & highlighting the environment while having a serious good time. Cheers partner!
& add to that, Garrisons' Market Brewery, retail store & participation in events, festivals & trade shows are now… Bullfrogpowered!  That means that Bullfrog Power, Canada's leading green energy provider, puts 100% clean, green electricity from wind and low-impact hydro sources onto the grid to match the amount of electricity this facility uses. This clean & renewable energy displaces regular energy from nonrenewable or polluting sources. We're proud to do our part as a leading craft brewer & we're in pretty good company. Here's a few other Bullfrogged brewers:  Beau's, Steam Whistle, Granville Island, The Grizzly Paw, Alley Kat, Trolley No.5, Picaroons, Upstreet, North, Sleeping Giant & Schoolhouse!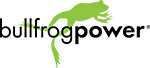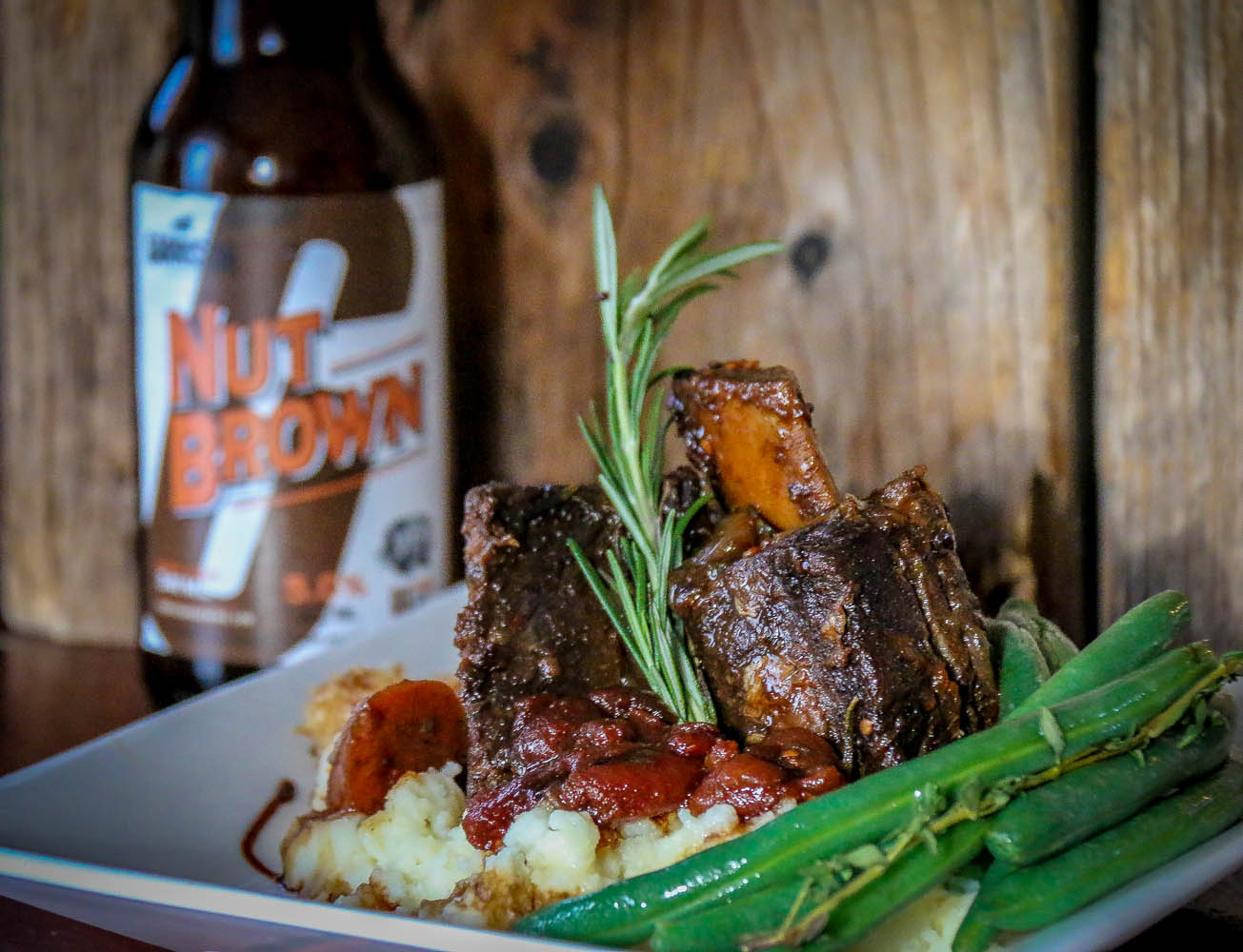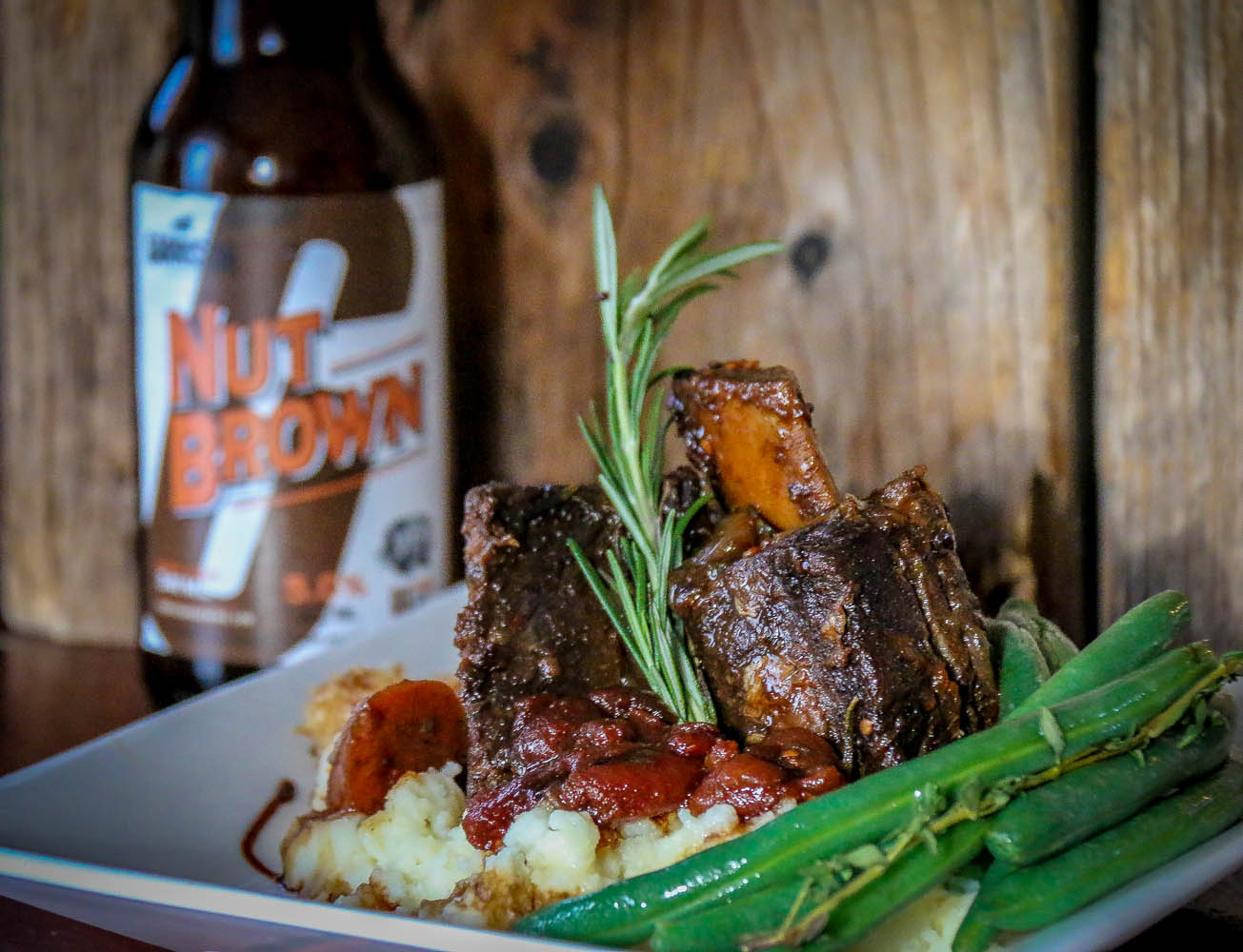 Beer and food naturally just go together, so why not have food with beer in it!  This page is devoted to recipes submitted by our friends, families and neighbours who have used our craft beer to make amazing, meals, appies and desserts! If you would like to submit a recipe email Justin at beer@garrisonbrewing.com
Jackie Fraser-Dunfield's Fantastic Nut Brown Braised Beef Short Ribs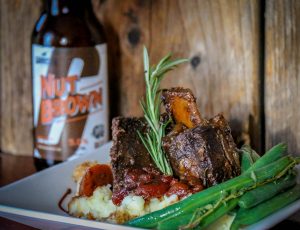 INGREDIENTS
4 pounds bone-in beef short ribs, cut crosswise into 2-inch pieces
Salt and freshly ground pepper
2 tablespoons vegetable oil
1 large onion, chopped
4 garlic cloves, minced
2 medium carrots, peeled and chopped
2 celery stalks, chopped
1 tablespoon cornstarch or allpurpose flour, prepared with water in a cup
1 bottle Nut Brown Ale, Garrison Brewing Co.
2 cups beef broth
2 tablespoons brown sugar
1 tablespoon Garam Masala
1 bunch fresh thyme & rosemary
6-8 large mushrooms, chopped in quarters
2 tablespoons tomato paste
6 whole tomatoes (canned) or cherry tomatoes
2 bay leaves
Fresh parsley, chopped parsley to taste
Browning sauce is optional to darken
INSTRUCTIONS
1. Preheat oven to 375 degrees.
2. Pat the short ribs dry with a paper towel and season generously with salt and pepper. Heat the oil over medium high heat.  If using a Dutch oven, you can do it all in one pot.  If using a cast iron roasting dish, then brown ribs in a frying pan and transfer.  Brown the short ribs on all sides, about 2-3 minutes per side, working in batches if necessary. Remove browned short ribs to a plate and discard most of the fat, leaving about 2 tablespoons in the pan.
3. Lower the heat to medium and add the onions, garlic, carrots, celery, leeks or green onions & mushrooms. Cook for about 5 minutes, stirring occasionally, until softened and fragrant. Place short ribs in roasting pan and add aromatics (vegetables) to the ribs.
4. Add the beer and beef broth, cornstarch, Worcestershire sauce, brown sugar, tomato paste and garam masala in a mixing bowl. Pour over short ribs and aromatics (vegetables).  Cover with tin foil and place in preheated oven.  Drop oven temperature to 325 F.
5. Cook until the short ribs are very tender, about 2.5 hours.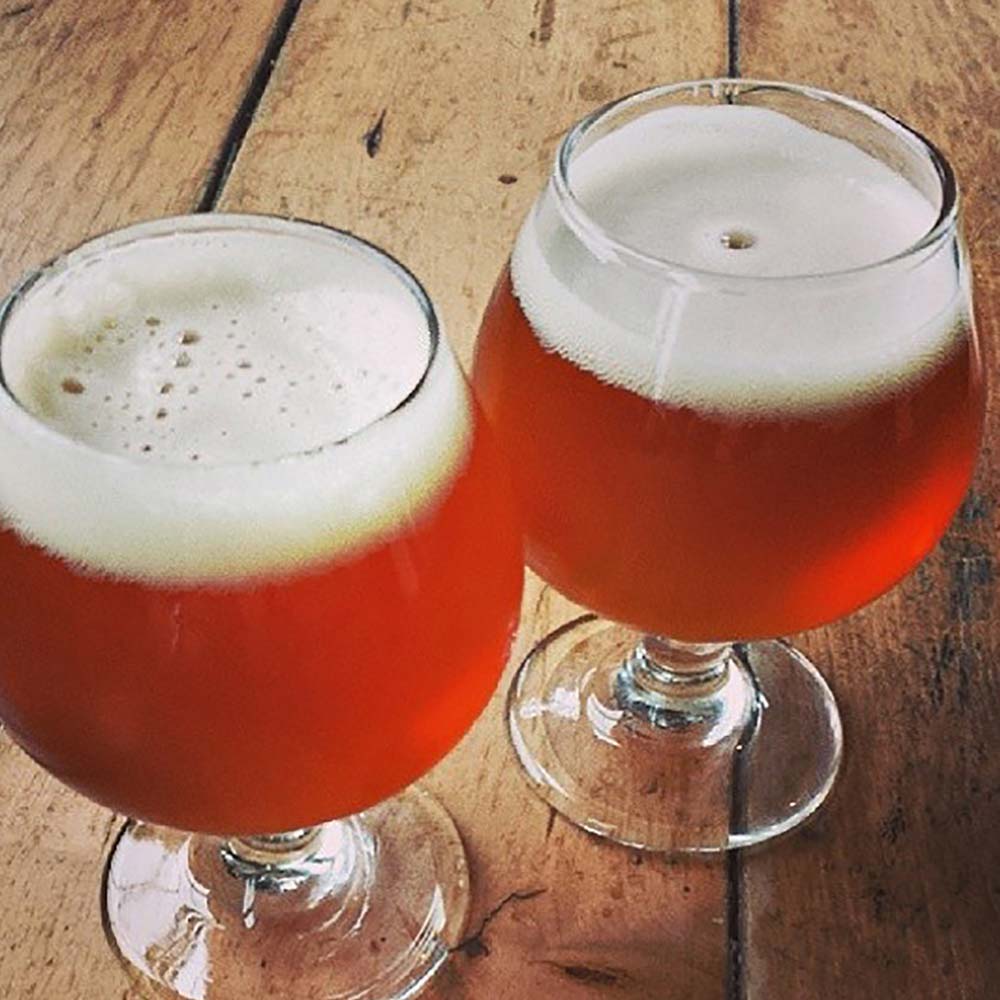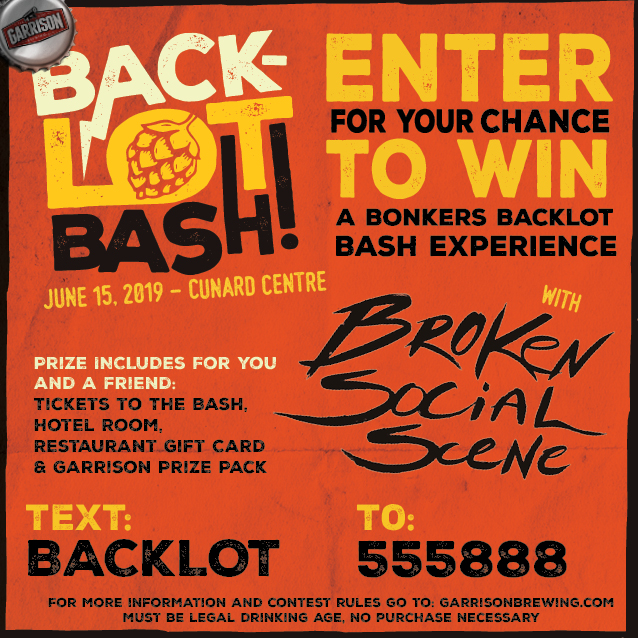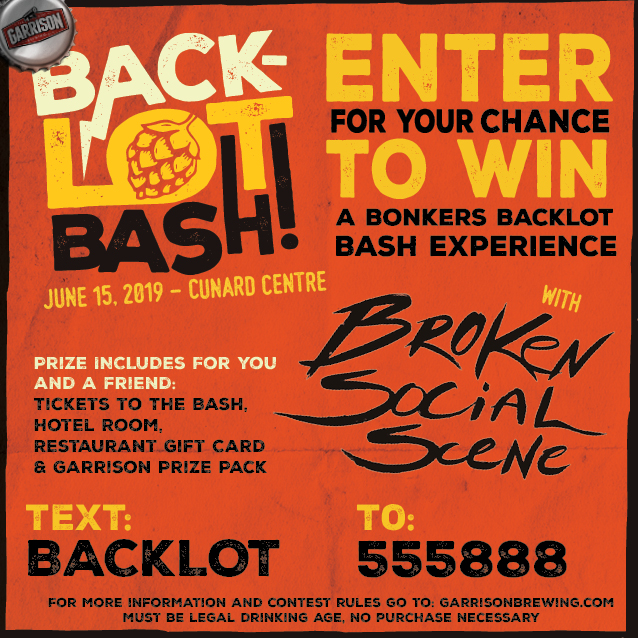 CONTEST DURATION
The Garrison Brewing – TEXT TO WIN 2 TICKETS TO BACKLOT BASH Contest (hereinafter, the "Contest") is being held by Garrison Brewing Co. (hereinafter, the "Sponsor"). The Contest starts at 12:00:01 a.m. Atlantic Standard Time (" AST") on April 29, 2019 and ends at 11:59:59 p.m. AST on June 2, 2019 (the "Contest Period").
ADMISSIBILITY
The Contest is open to legal residents of Nova Scotia, Canada who are nineteen (19) years of age and older at the time they enter the Contest. Employees of Garrison Brewing Co. or the Nova Scotia Liquor Commission (NSLC), its advertising and promotional agencies are not eligible to participate.  PLEASE DO NOT ENTER THE CONTEST IF YOU ARE INELIGIBLE. Participants must have valid identification and/or documentation in order to be eligible to win the prize. To be admissible, your ENTRY must be received within the Contest Period. All eligible Entries received during the Contest period will be entered into the random draw.
PARTICIPATION – HOW TO ENTER THE CONTEST NO PURCHASE NECESSARY
Send a text with the word BACKLOT19 to the toll-free number 18882008260 . Following receipt of your TEXT MESSAGE, you will receive a return TEXT MESSAGE message within ten (10) minutes that confirms receipt of your contest entry. Entries limited to one (1) entry per person. All Entries must be received by 11:59:59 p.m. MST on June 2 2019. Winner will be chosen by random draw.
THE PRIZE
There is one (1) Prize (the "Prize") available to be won throughout the duration of the Contest
The Prize will consist of two (2) tickets to the 2019 Backlot Bash, one (1) night in a hotel room, one (1) gift card to a local restaurant, and 1 (1) Garrison prize pack.
The Sponsor and its associates make no express or implied warranties or conditions of any kind with respect to the prize. Approximate retail value of the Each Prize is $500 CAD. Odds of winning a Prize will depend on the number of entrants.
Prizes are non-transferable, cannot be substituted, may not be sold, combined with any other offer or redeemed for cash. Sponsor reserves the right to substitute the Prize or a portion of the Prize for a prize of equal value for whatever reason.
|     CONDITIONS:
The following conditions apply to the prize:
All costs not specifically stated as being part of the prize will be at the sole expense of the winners.
The Prize will be picked up by the chosen winner.
Entrants (i) acknowledge compliance with these Official Rules including all eligibility requirements and, (ii) agree to be bound by the decisions of the Sponsor and contest administrator, made in their sole discretion, which shall be final and binding in all matters relating to the Contest. Entrants who have not complied with these Official Rules are subject to disqualification.
Entries generated by script, macro, robotic, programming, or any other automated means are prohibited and will be disqualified. Sponsor is not responsible for late, lost, damaged, misdirected, mutilated, garbled, illegible or incomplete entries. Proof of transmission (screenshots or captures of game play etc.) and/or e-mailing does not constitute proof of delivery. All entries become the property of Sponsor and in no case shall be returned to sender.
If a dispute arises regarding who submitted an entry, the entry will be deemed to be submitted by the authorized account holder of the phone number provided at time of entry. Authorized account holder is defined as the natural person who is assigned to an email address / mobile phone by a cellular service provider, Internet access provider, online service provider, cellular phone provider or other organization responsible for assigning a telephone number email addresses for the domain associated with the submitted email address.
Sponsor and the Promotion Entities do not warrant that access to or use of the web service website service will be uninterrupted. Sponsor and the Promotion Entities are not responsible for any problems that may arise, including but not limited to; (a) lost, interrupted, inaccessible or unavailable networks, servers, satellites, Internet Service Providers, Web Services sites, or other connection, availability or accessibility problems arising in connection with or over the course of the Contest; or (b) communications failed, jumbled, scrambled, delayed, or misdirected computer, telephone or cable transmissions or hardware or software malfunctions, failures or difficulties; or (c) failure of personal computers and/or software and hardware configurations, any technical malfunctions, failures, or difficulties, printing errors, clerical, typographical or other error in the offering or announcement of any prize or in any prize notification documents; or (d) for any errors of any kind in connection with the Contest, whether human, mechanical, clerical, electronic, or technical in nature; or (e) the incorrect or inaccurate capture of information, or the failure to capture any information in connection with the Contest; or (f) damage to a user's system occasioned by participation in the Contest or downloading any information necessary to participate in the Contest.
|     PRIZE DRAW AND CLAIMING:
A random drawing from all Entries will be held in Halifax, Nova Scotia at approximately 11:00 AM on June 3 2019 to select one participant to be eligible to win the prize. The first participant whose Entries are drawn in the random drawing and who otherwise comply with these Rules will be eligible to win the prize. Odds of winning will depend on the number of eligible Entries received during the Contest Period.
The Contest Administrator will make reasonable attempts to contact the selected participants by phone within three (3) business days after the drawing. To be confirmed as the winner and claim the prize, the selected participants must: (i) correctly answer, unaided, a time-limited mathematical skill-testing question; (ii) complete, sign and return a Release form, including a publicity release, within ten (10) business days of the date he or she was contacted by Garrison; (iii) supply any and all information reasonably required by Garrison  to administer the Contest and award the prize; and (iv) otherwise comply with these Rules.
If the selected participants (a) cannot be reached within three (3) business days of being contacted, (b) does not complete, sign and return the Release form within ten (10) business days of being contacted, (c) do not correctly answer the mathematical skill-testing question in the manner described, (d) is not eligible, (e) refuse the prize, (f) do not supply any required information or documents within the period specified, or (f) do not otherwise comply with these Rules, they will be disqualified and will not win the prize. In that event, an alternate entrant may be selected in accordance with these Rules or the prize may be annulled at PMA's sole discretion. The prize will be awarded to the confirmed winner only.
The prize must be accepted as granted and cannot be converted to cash. The prize cannot be exchanged for another prize. The prize cannot be sold or transferred to any other person. Refusal to accept the prize absolves Wine and Beyond and PMA Canada of any and all obligations relative to said prize and any and all obligations towards the selected participant.
GENERAL CONDITIONS
All Entries received will become the property of Garrison Brewing Co. and will not be returned. Proof of submitting an Entry will not be deemed proof of receipt.
The winners must abide by these Rules.
By entering the Contest, participants agree to be bound by these Rules and any subsequent amendment(s) made by Garrison Brewing Co., and agree to be bound by the decisions of Garrison Brewing Co., which shall be considered final, binding and irrevocable in all aspects relating to the Contest.
The selected participants must supply, on demand, official proof of age to Garrison Brewing Co. and all other Contest partners.
If the identity of a participant is disputed, the authorized account holder of the cell phone number submitted at the time of entry will be deemed to be the participant. For the purpose of these Rules, "authorized account holder" of cell phone number is defined as the natural person who is assigned to a cell phone by the service provider or other organization responsible for assigning cell phones for the phone associated with the submitted telephone number.
Any false declaration by a participant, or failure to comply with these Rules will result in automatic disqualification of the participant and forfeiture of any prize.
Garrison Brewing Co. shall not be held responsible for any error or omission related to the printing or advertising of this Contest.
Garrison Brewing Co., its affiliates, administrators, partners, directors, employees, agents and representatives (the "Released Parties") shall not be held liable for defective functioning of any computer hardware or software, lines of communication, or network communications related to the loss or absence of network communications or any other defective, incomplete, incomprehensible or erased transmission via any computer, network or server that could limit or render impossible the capacity for any person to participate in the Contest. The Released Parties assume no responsibility or liability for lost, late, unintelligible/illegible, falsified, damaged, misdirected or incomplete Entries, Releases, notifications, responses, or replies. The Released Parties are hereby totally absolved of any responsibility for any damage or loss that could be directly or indirectly caused in part or in whole by uploading or downloading any software or information including the transmission of any information related to participating in the Contest.
By participating in this Contest, attempting to do so, or accepting the prize, all participants agree to release and hold harmless the Released Parties from any and all liability, including without limitation, for any loss, harm, damage, injury, cost or expense, personal injury and/or death, which may occur in connection with participant's participation in the Contest, or possession, acceptance, participation and/or use or misuse of the prize and for any claims based on publicity rights, defamation or invasion of privacy. Garrison Brewing Co. is not responsible if the Contest cannot take place or if any element of the prize does not take place or cannot be awarded due to reasons outside of Garrison Brewing Co.'s control including weather.
All participants hereby agree not to deliberately interrupt or corrupt the smooth running of the Contest, not to stop other people from participating in the Contest, and not to interfere with the legitimate running of the Contest. Furthermore, they agree not to, in any way, act contrary to the Rules with the understanding that any such act shall result in automatic disqualification of the participant and that he or she may be prosecuted under the full force of the law at Garrison Brewing Co.'s discretion.
The use or reproduction of any copyright material or trademark related to this Contest is strictly prohibited, except with the prior express written consent of the rights holder.
In the event that an authority with jurisdiction declares any portion of these Rules invalid, illegal or unenforceable, said judgement shall not in any way affect any other aspect of these Rules, which shall remain valid and in effect. This Contest is void where prohibited by law.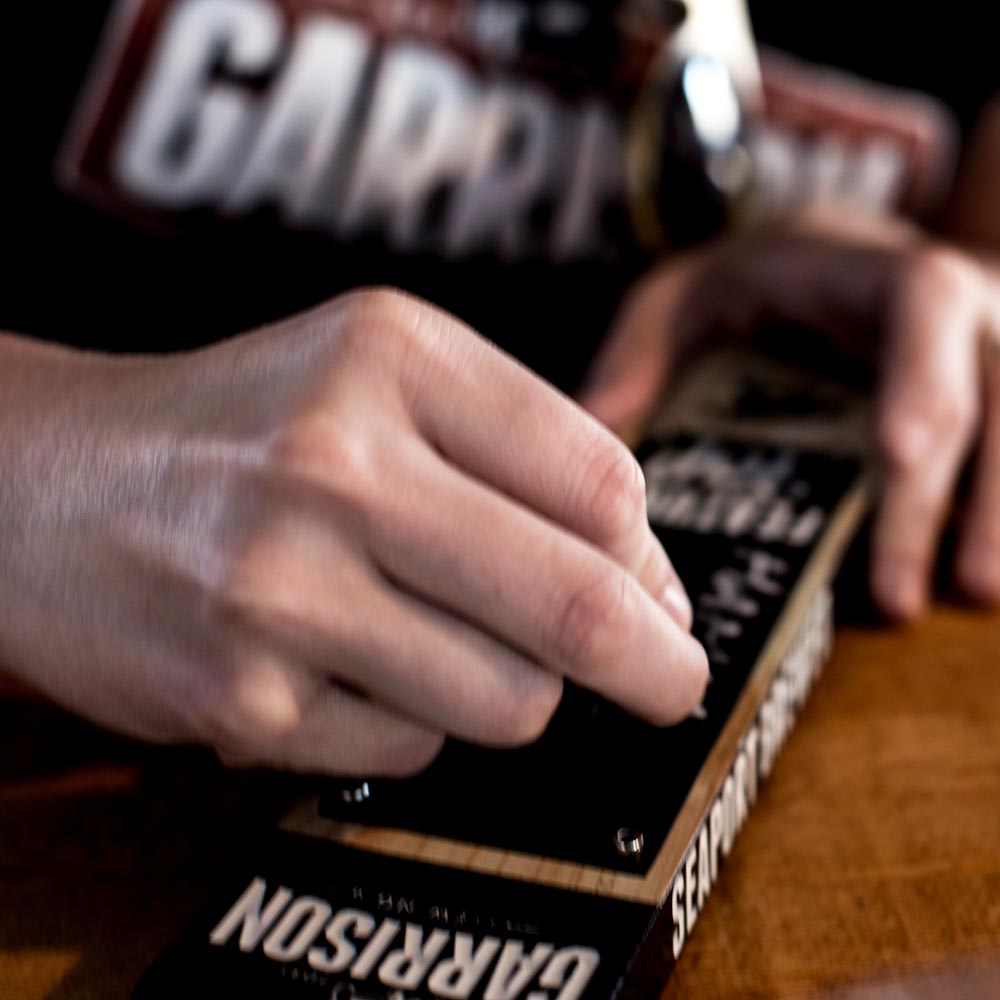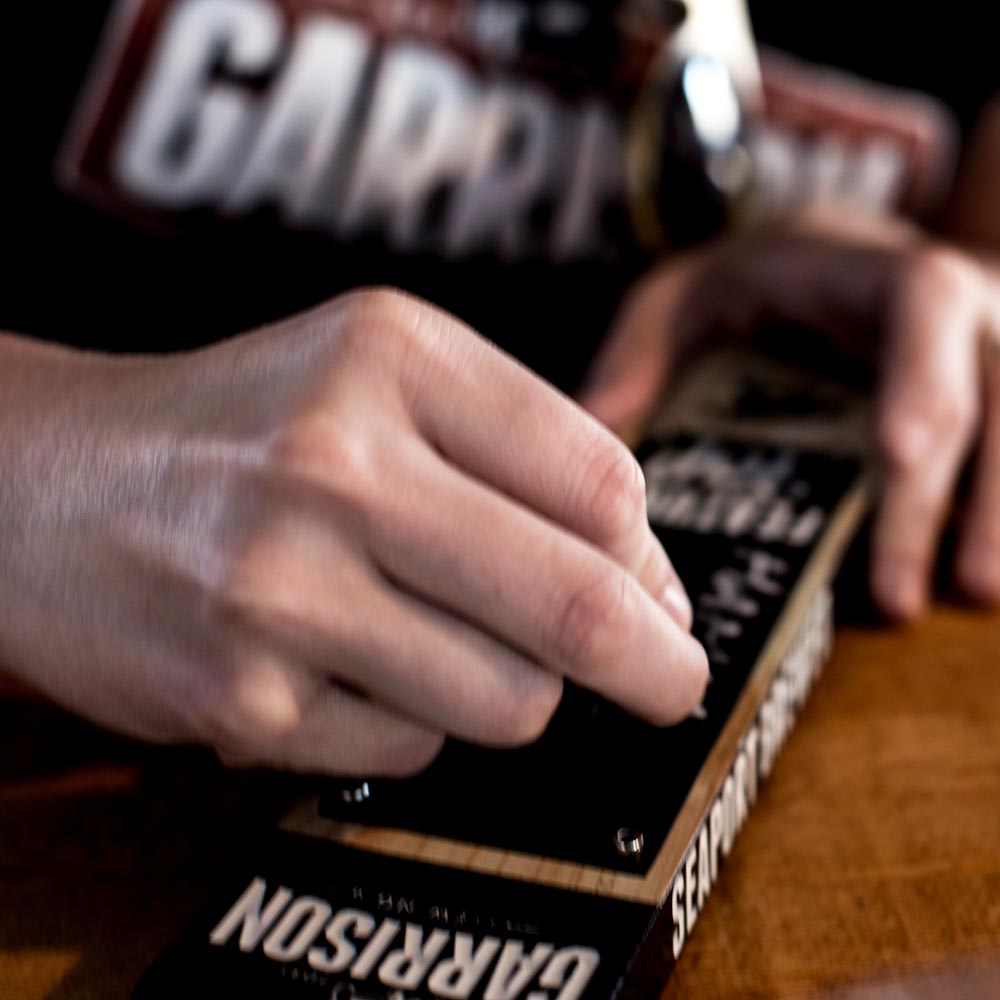 Check Out our amazing news on the New Oxford Taproom!
http://www.garrisonbrewing.com/wp-content/uploads/2019/02/The-Oxford-Press-Release-.pdf
For Immediate Release
Tuesday, February 12, 2019
Long live The Oxford on Quinpool (Part 1)
Garrison Brewing set to open new Taproom in Halifax this Spring!
(Halifax, NS) — Garrison Brewing, one of Halifax's original craft breweries, is answering the call of west-enders looking for a place to gather and socialize. Centered in the old Elegant Touch Beauty Salon, and attached to the iconic Oxford Theatre, Garrison's new venture will include a pilot-brewery, street-front taproom and retail store, backyard terrace and second floor community space.
As homage to the 82-year old building, Garrison's new venture will be aptly called The Oxford. With its vintage, speakeasy vibe and classic cinematic elements, the taproom space will evoke the Oxford Theatres important past. Exposed brick, 14' wood ceilings and vintage subway tile will add character to a small test brewery and wide range of locally crafted Garrison beer and cider.
"We're excited and honoured to breathe new life into such a landmark space while celebrating its amazing history. The taproom will be a comfortable and welcoming throwback to old Hollywood, and you may even recognize some classic items from the original Oxford theatre," says Brian Titus, President of Garrison Brewing.
Scheduled to open in late Spring 2019, the space will provide locals in the area with a family (and pet) friendly place to fill a growler, sample fresh craft beers, or host a community event. The Oxford will have a limited offering of snacks; however, patrons will be welcome to order-in food from the many great neighbouring restaurants. "Change and development are coming to the area, but Quinpool will always be known as a great food destination" says Titus. "Many of the surrounding restaurants have been long-time customers of ours and we look forward to promoting them through pop-ups and catering".
"I am sure I speak for everyone on Quinpool Road when I say that we are absolutely thrilled that the building will not be demolished," says Karla Nicholson, Executive Director of Quinpool's Mainstreet District Association. "The Oxford development is definitely exciting, and we look forward to seeing many of our businesses benefit from it. It's also exciting that community groups and non-profits, like our Association, will have a place to meet and collaborate on Quinpool."
The building and property were purchased over a year ago by Quinpool veterans and promoters, the Nahas family (King of Donair). Their vision has always been to see the building renovated and remain a long-term asset for the community. In addition to The Oxford taproom, plans are nearly complete on a development within the original theatre space. Details on this equally exciting venture will be announced shortly, but it is also anticipated to be a family- friendly business for community gathering.
For updates on design, renovations and finishing touches, follow us socially here: @oxfordtaproom.
-30-
About Garrison Brewing Company
Since 1997, Garrison has strived to create exceptional craft beer – real beer made with passion, hard work and East Coast pride. Garrison offers an exceptional range of premium and distinctive beers, all crafted in the historic Halifax Seaport and (soon) at the Oxford Theatre building on Quinpool.
For more information, contact:
Justin Zinck, Garrison Brewing
(902) 802-8582 / jzinck@garrisonbrewing.com
Wendy Phillips, Phillips Public Relations Ltd. (902) 492-0960 / wendy@pprl.ca