Community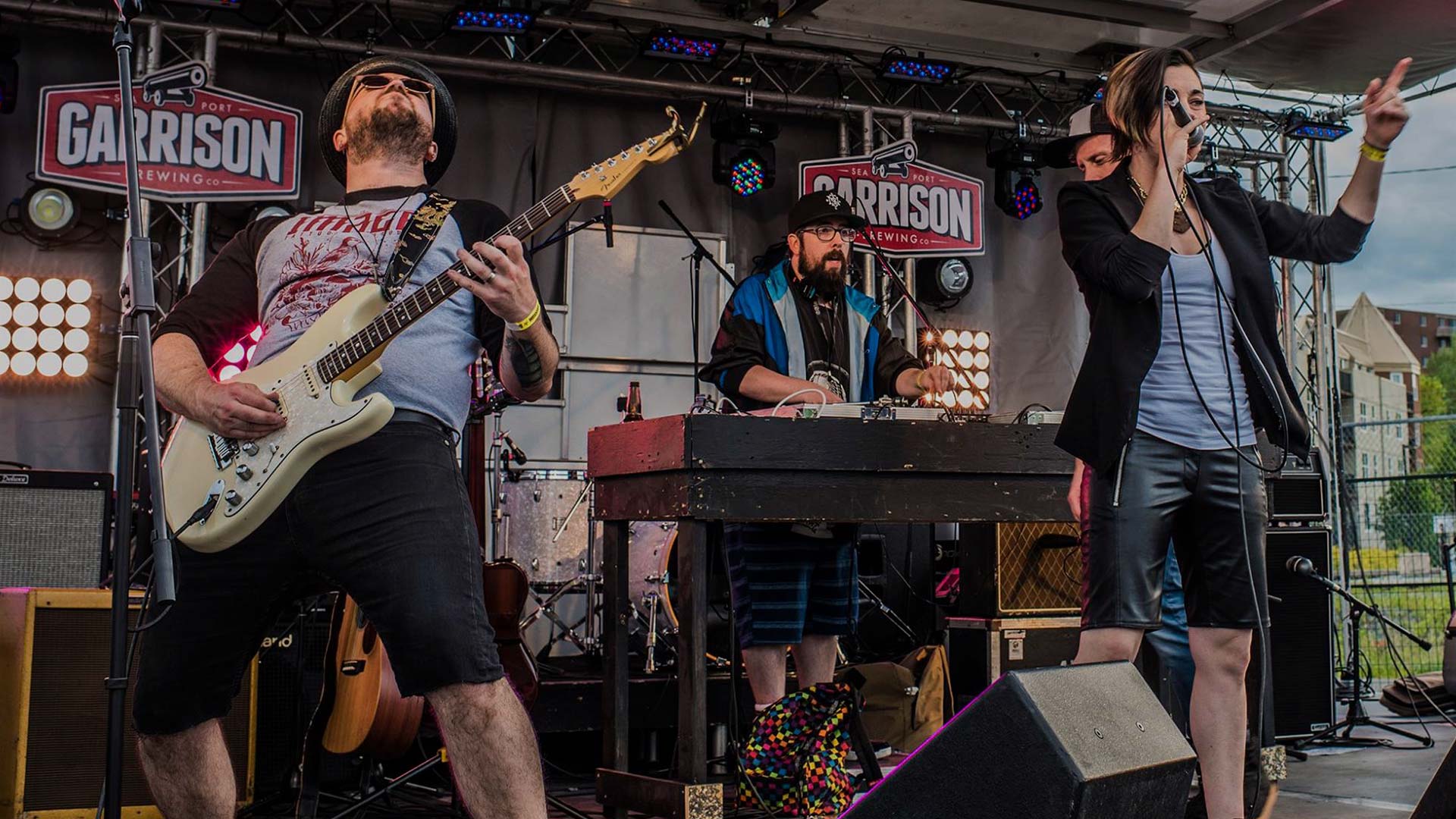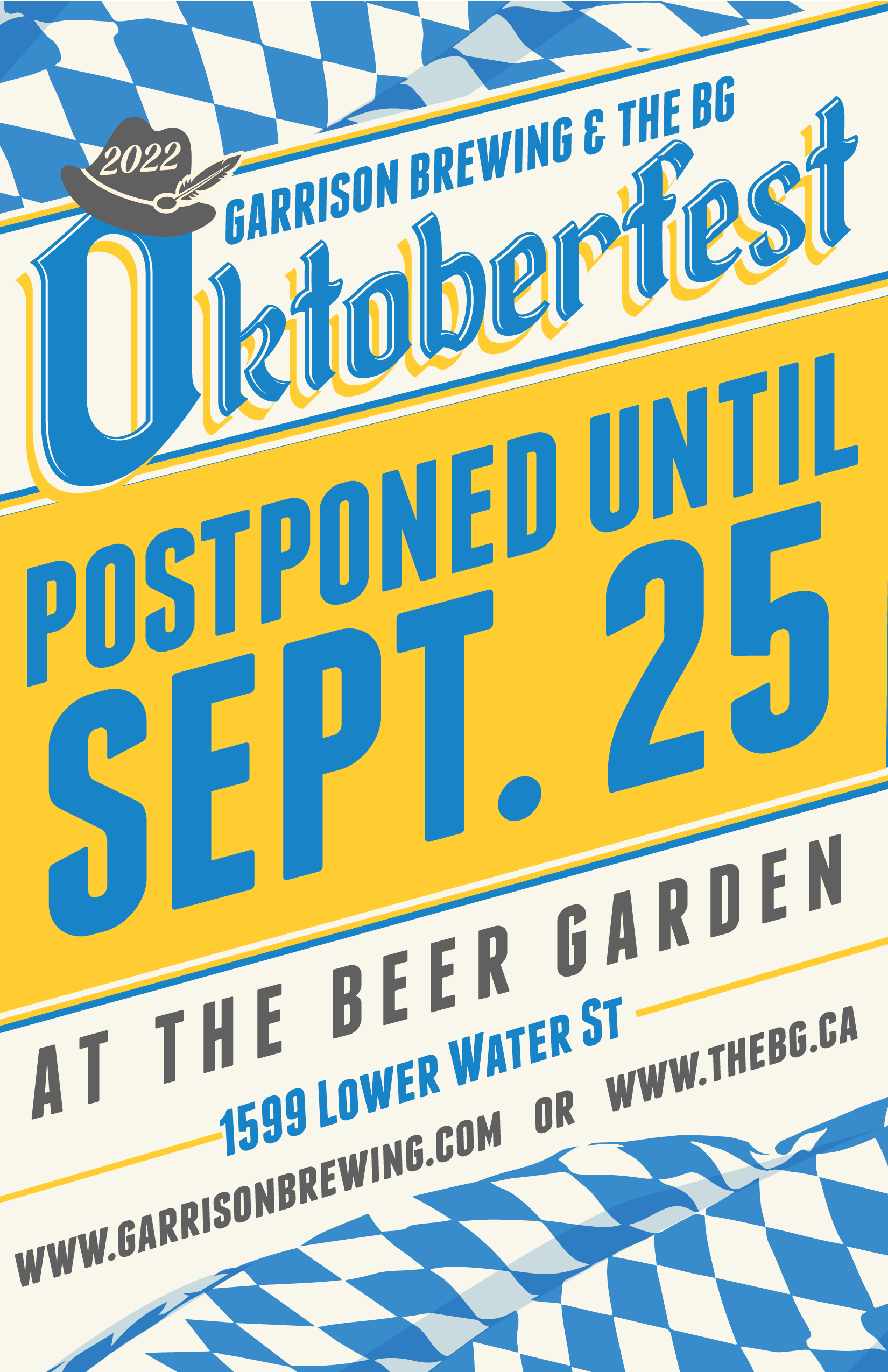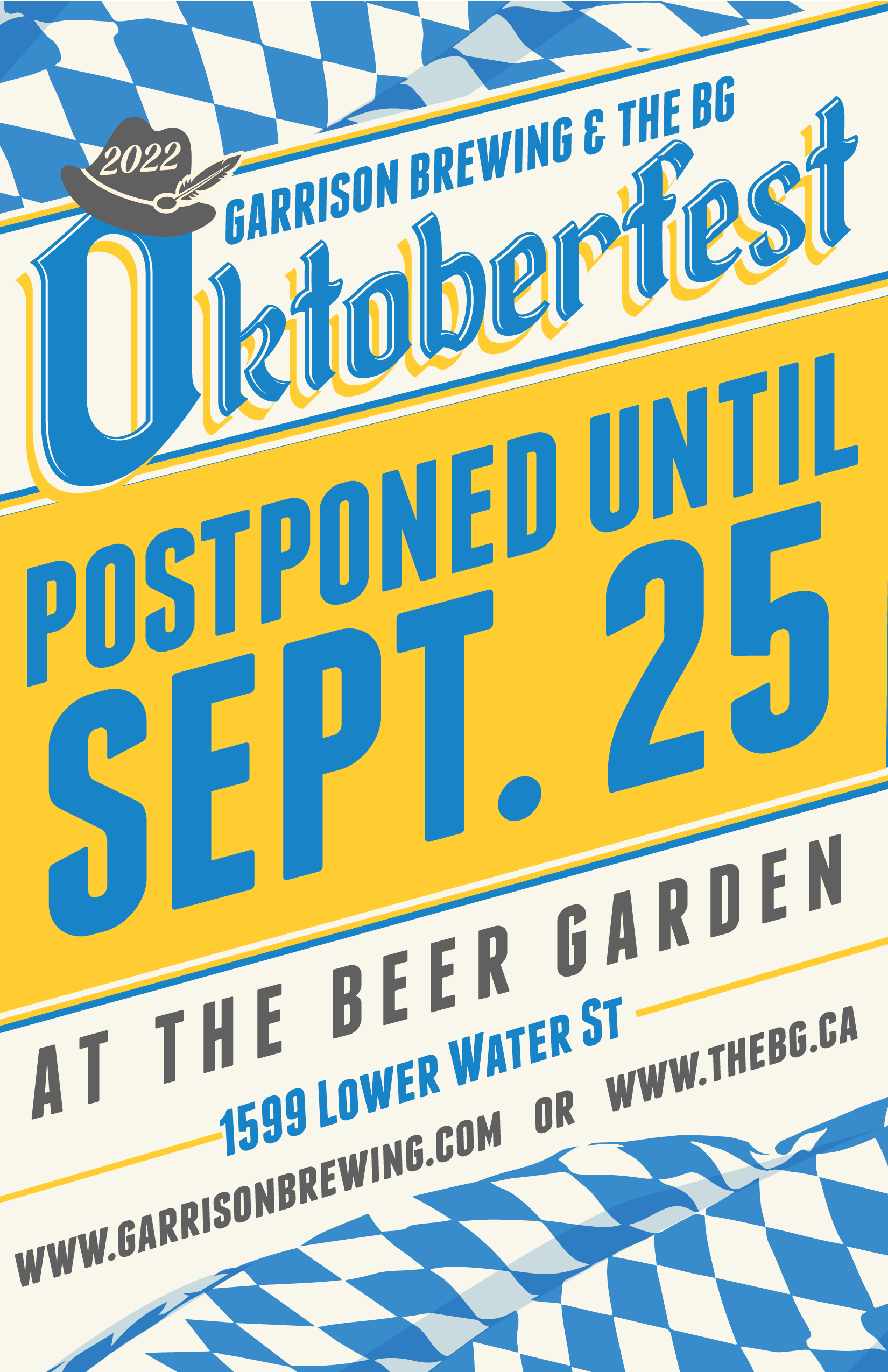 Garrison & The BG
Oktoberfest
Dust off your stein and iron out your lederhosen, it's time to party! Join us at the Waterfront Beer Garden for an Oktoberfest celebration like no other.
Complete with FREE COVER, from September 25 – October 2, enjoy incredible craft beer, German food features, live music, games, and more.
If free cover wasn't enough to get you groovin', arrive at the beer garden donning your German gear and skip the line! Lederhosen, dirndl, whatever tickles your fancy – show us your Oktoberfest spirit and you'll get the VIP treatment.
Curious about the surprises up our sleeve? Stay tuned for a scheduled lineup of traditional oompah music with special appearances from The Roving Steins and The Swell Guys.
Our beer list will be available shortly. Keep an eye out for our specialty menu including Oktoberfest beers along with some traditional Garrison favourites.
See below for our food menu.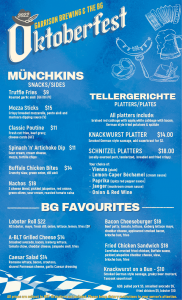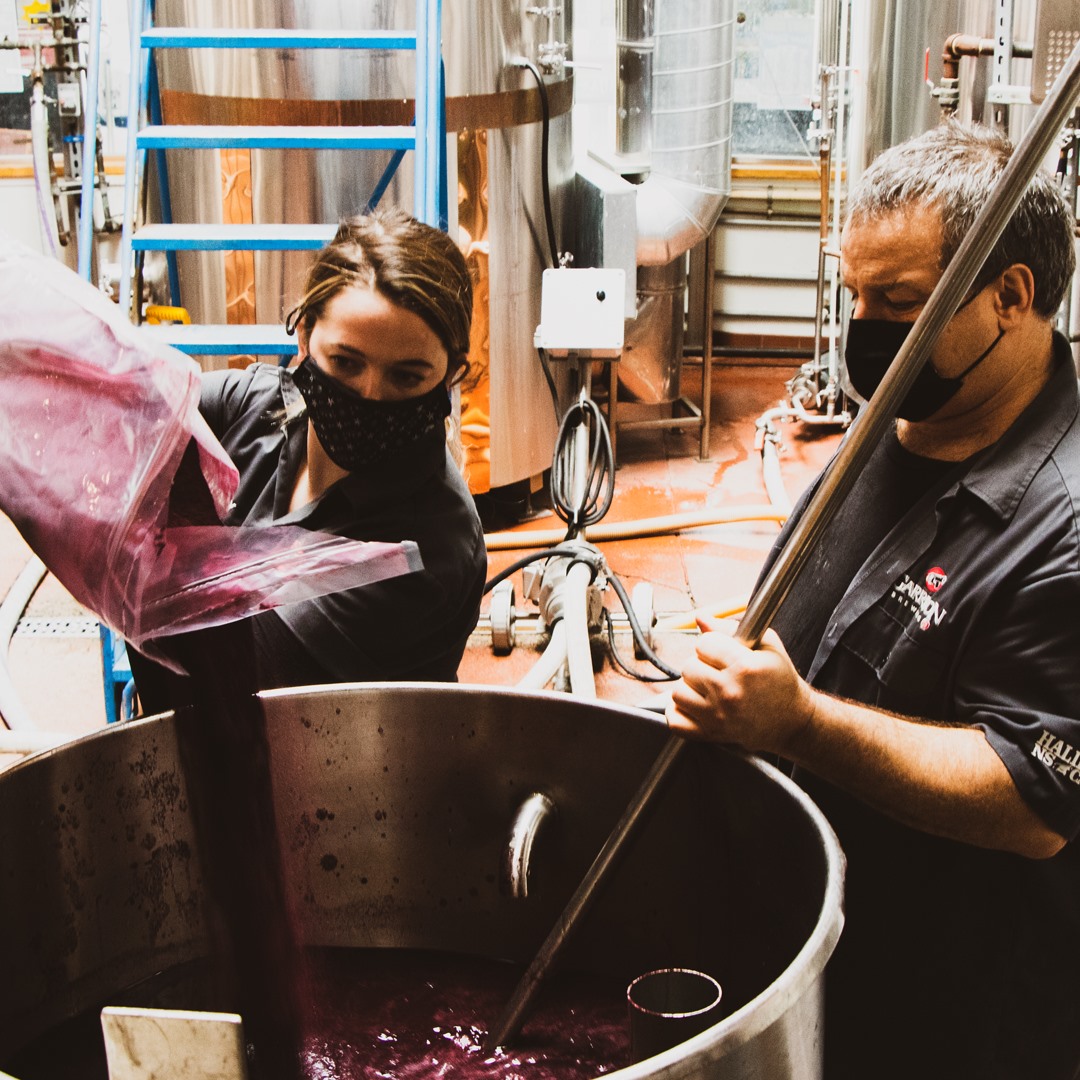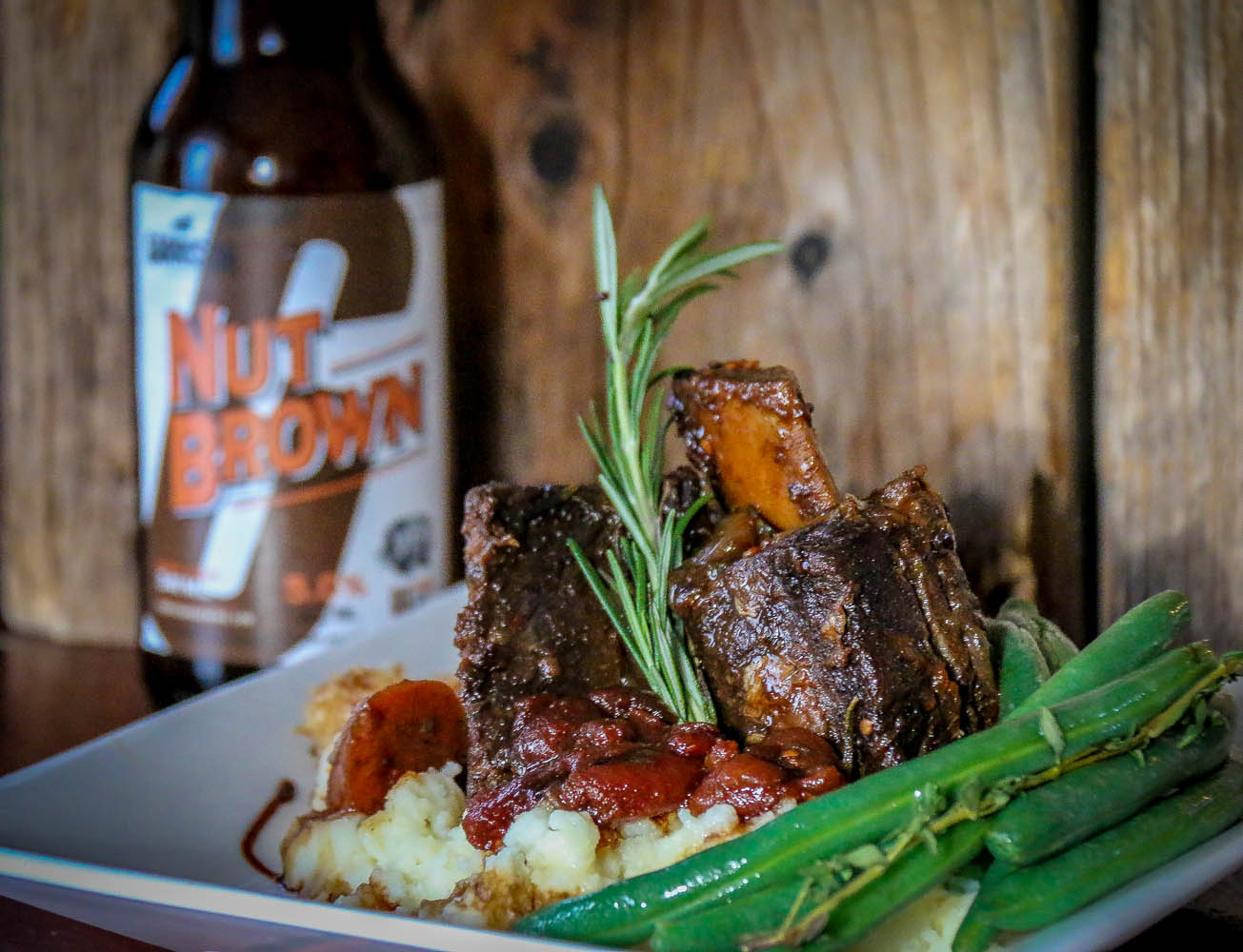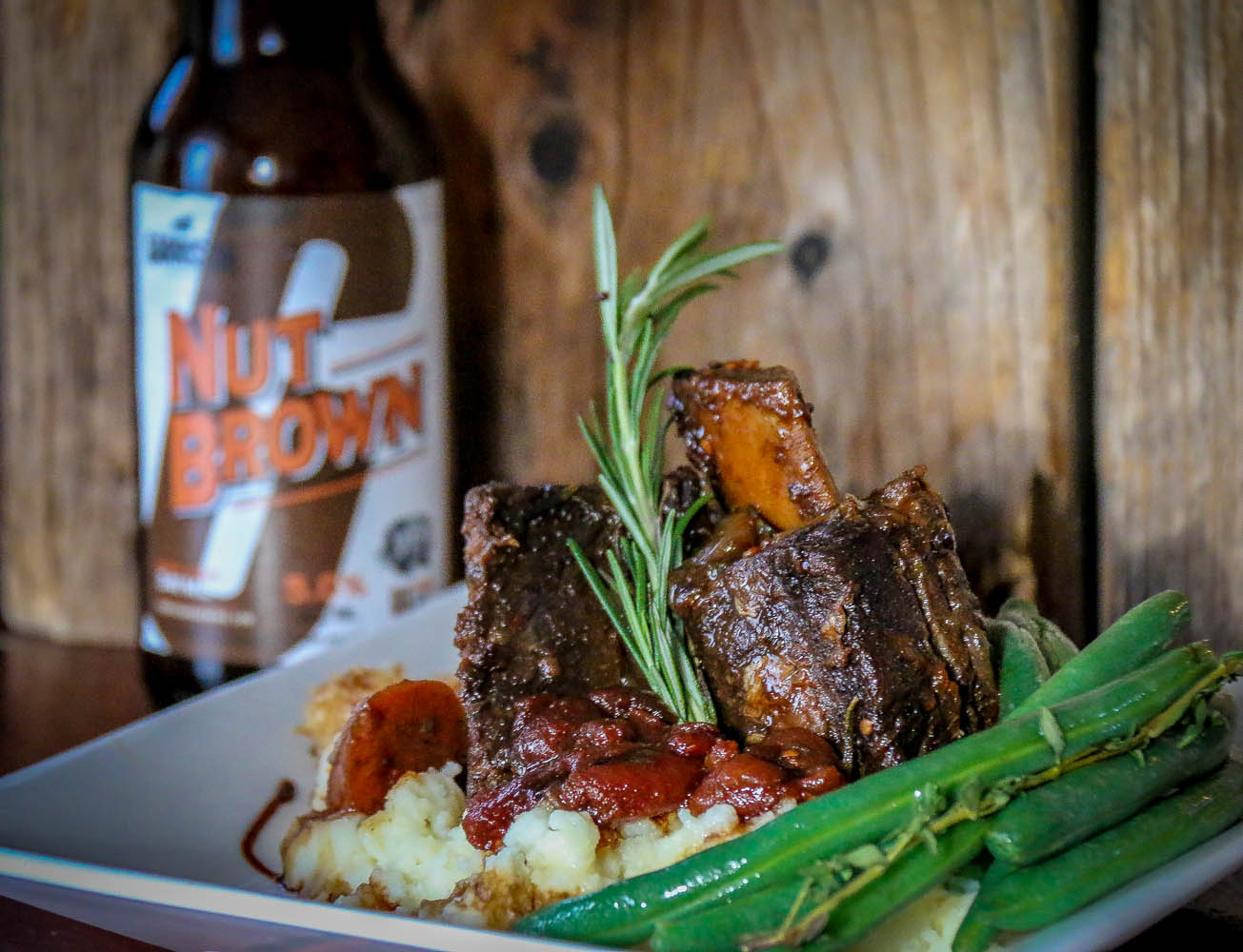 Beer and food naturally just go together, so why not have food with beer in it!  This page is devoted to recipes submitted by our friends, families and neighbours who have used our craft beer to make amazing, meals, appies and desserts! If you would like to submit a recipe email Justin at beer@garrisonbrewing.com
Jackie Fraser-Dunfield's Fantastic Nut Brown Braised Beef Short Ribs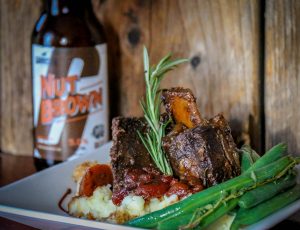 INGREDIENTS
4 pounds bone-in beef short ribs, cut crosswise into 2-inch pieces
Salt and freshly ground pepper
2 tablespoons vegetable oil
1 large onion, chopped
4 garlic cloves, minced
2 medium carrots, peeled and chopped
2 celery stalks, chopped
1 tablespoon cornstarch or allpurpose flour, prepared with water in a cup
1 bottle Nut Brown Ale, Garrison Brewing Co.
2 cups beef broth
2 tablespoons brown sugar
1 tablespoon Garam Masala
1 bunch fresh thyme & rosemary
6-8 large mushrooms, chopped in quarters
2 tablespoons tomato paste
6 whole tomatoes (canned) or cherry tomatoes
2 bay leaves
Fresh parsley, chopped parsley to taste
Browning sauce is optional to darken
INSTRUCTIONS
1. Preheat oven to 375 degrees.
2. Pat the short ribs dry with a paper towel and season generously with salt and pepper. Heat the oil over medium high heat.  If using a Dutch oven, you can do it all in one pot.  If using a cast iron roasting dish, then brown ribs in a frying pan and transfer.  Brown the short ribs on all sides, about 2-3 minutes per side, working in batches if necessary. Remove browned short ribs to a plate and discard most of the fat, leaving about 2 tablespoons in the pan.
3. Lower the heat to medium and add the onions, garlic, carrots, celery, leeks or green onions & mushrooms. Cook for about 5 minutes, stirring occasionally, until softened and fragrant. Place short ribs in roasting pan and add aromatics (vegetables) to the ribs.
4. Add the beer and beef broth, cornstarch, Worcestershire sauce, brown sugar, tomato paste and garam masala in a mixing bowl. Pour over short ribs and aromatics (vegetables).  Cover with tin foil and place in preheated oven.  Drop oven temperature to 325 F.
5. Cook until the short ribs are very tender, about 2.5 hours.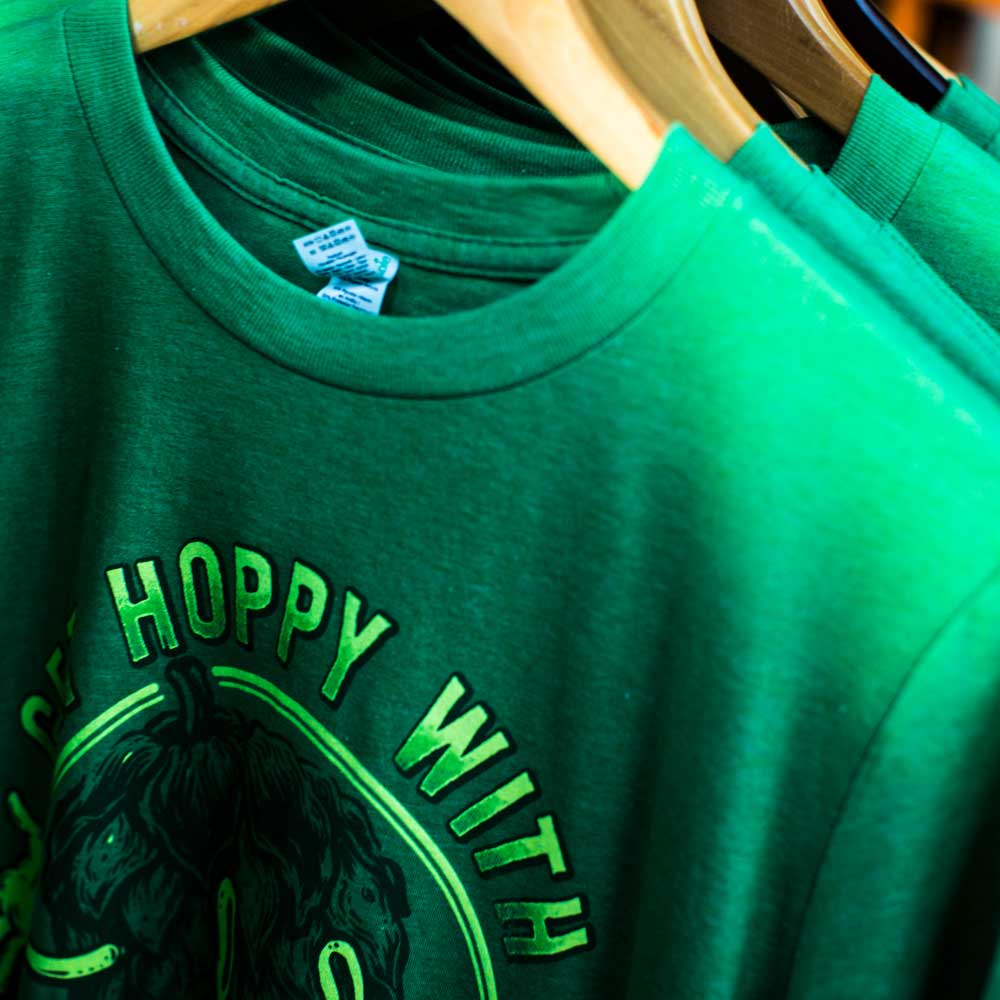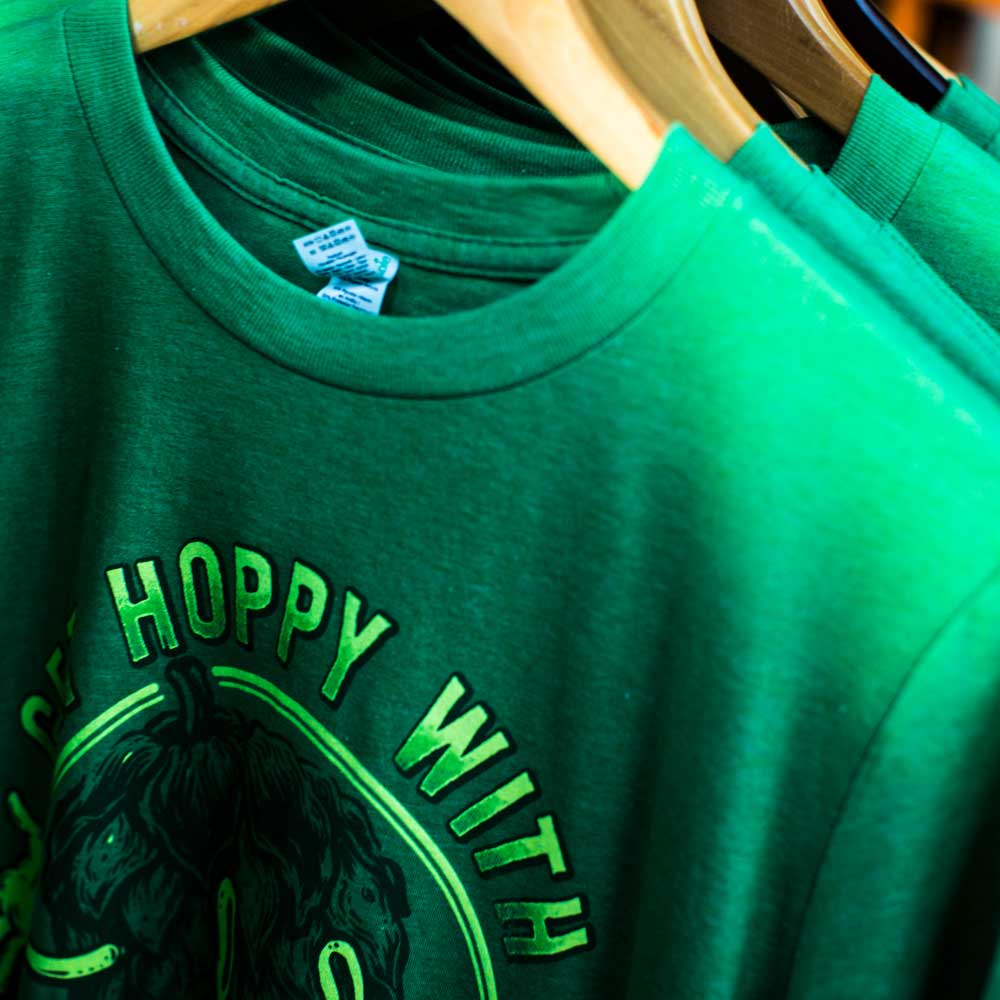 The Environment

Makin' Green Beer!
Can craft beer be green? Absolutely (just not for St. Paddy's Day!) At Garrison we strive to make great beer with as little impact & as much sustainability as possible. It's a commitment we stand behind & here are a few ways we live it:
Wastewater – we capture & direct all operations wastewater to a single point, sample & test in-house, separate & dispose of all high-strength discharge (yeast, trub, waste beer, etc.) & screen off the solids before sending on for treatment. Over to you Halifax Water!
Spent Grain – after we've removed the starches (sugars) & flavours from the grain, Bovidae Farms in Falmouth comes & takes it away to feed their dairy cows (no tipping please). Thanks Bob!
Solids Separation – We work with suppliers to reduce their waste materials at source. After that though, nearly everything gets broken into separate streams: paper, plastic, cardboard, pallets, scrap wood & steel
Energy Efficiency – Building our new brewery & refurbishing the older market brewery has allowed us to invest in improvements throughout: natural gas steam boiler, VFD pumps, energy-efficient lighting, water & heat recovery
East Coast Beer Gear – Most of our brewing & cellar equipment is designed & built in Prince Edward Island. Thanks neighbour!
3R's of Packaging – All beer packaging is either returnable (bottles & cans), reusable (growlers & kegs) or recyclable (cardboard trays/boxes, boxboard packs & metal crowns)
Corn Starch Cups – We've been using these nifty compostable/biodegradable cups for nearly a decade & we wouldn't serve you any other way. Guaranteed to break down in whichever stream they end up, it's just the right thing to do. Cheers to Green Shift Inc.!
Old Buildings/Good Bones – The Halifax Seaport has given us not one but two amazing opportunities to repurpose, refurbish & otherwise return to service an old, derelict building. Brick, steel & rough-cut wood, they just don't make 'em like that anymore!
Environmental Partnership – Garrison is thrilled to be a Sustainability Ally of Ecology Action Centre! By partnering together on the Backlot Bash we're making our event more green, fundraising for EAC causes & highlighting the environment while having a serious good time. Cheers partner!
& add to that, Garrisons' Market Brewery, retail store & participation in events, festivals & trade shows are now… Bullfrogpowered!  That means that Bullfrog Power, Canada's leading green energy provider, puts 100% clean, green electricity from wind and low-impact hydro sources onto the grid to match the amount of electricity this facility uses. This clean & renewable energy displaces regular energy from nonrenewable or polluting sources. We're proud to do our part as a leading craft brewer & we're in pretty good company. Here's a few other Bullfrogged brewers:  Beau's, Steam Whistle, Granville Island, The Grizzly Paw, Alley Kat, Trolley No.5, Picaroons, Upstreet, North, Sleeping Giant & Schoolhouse!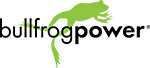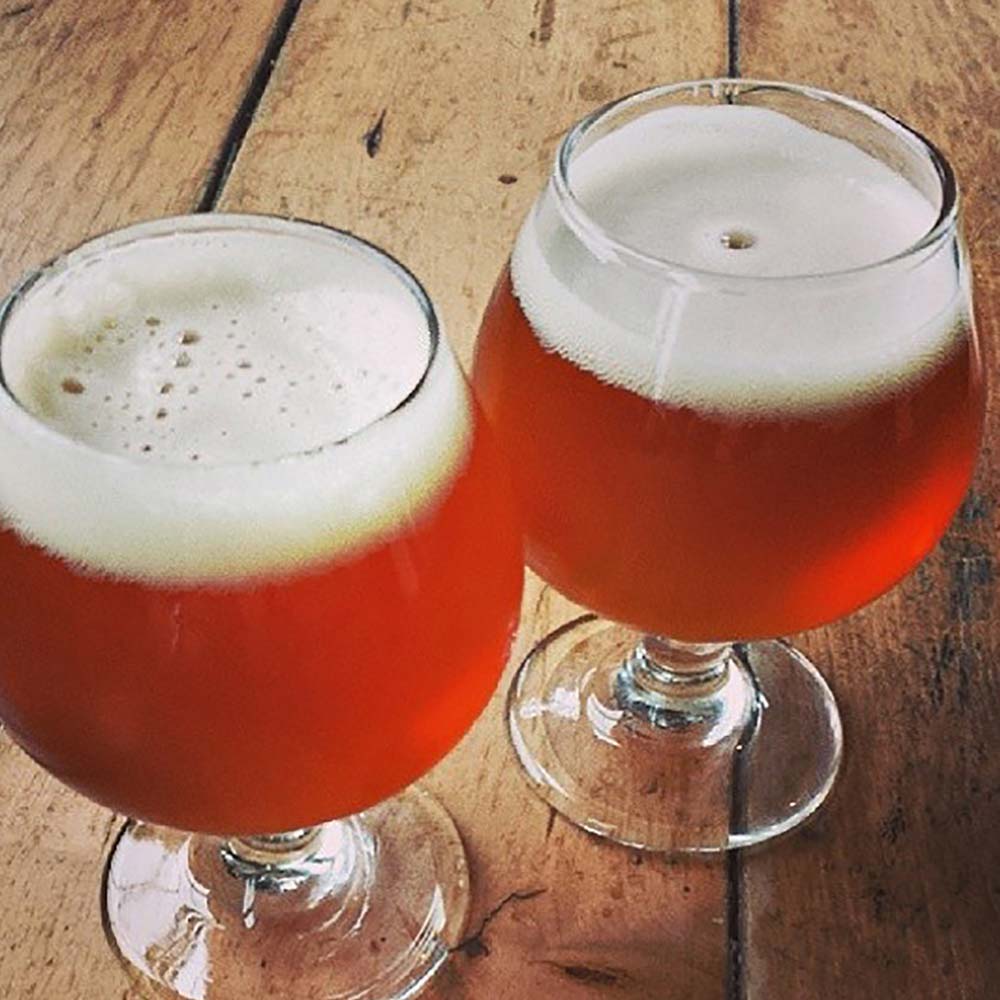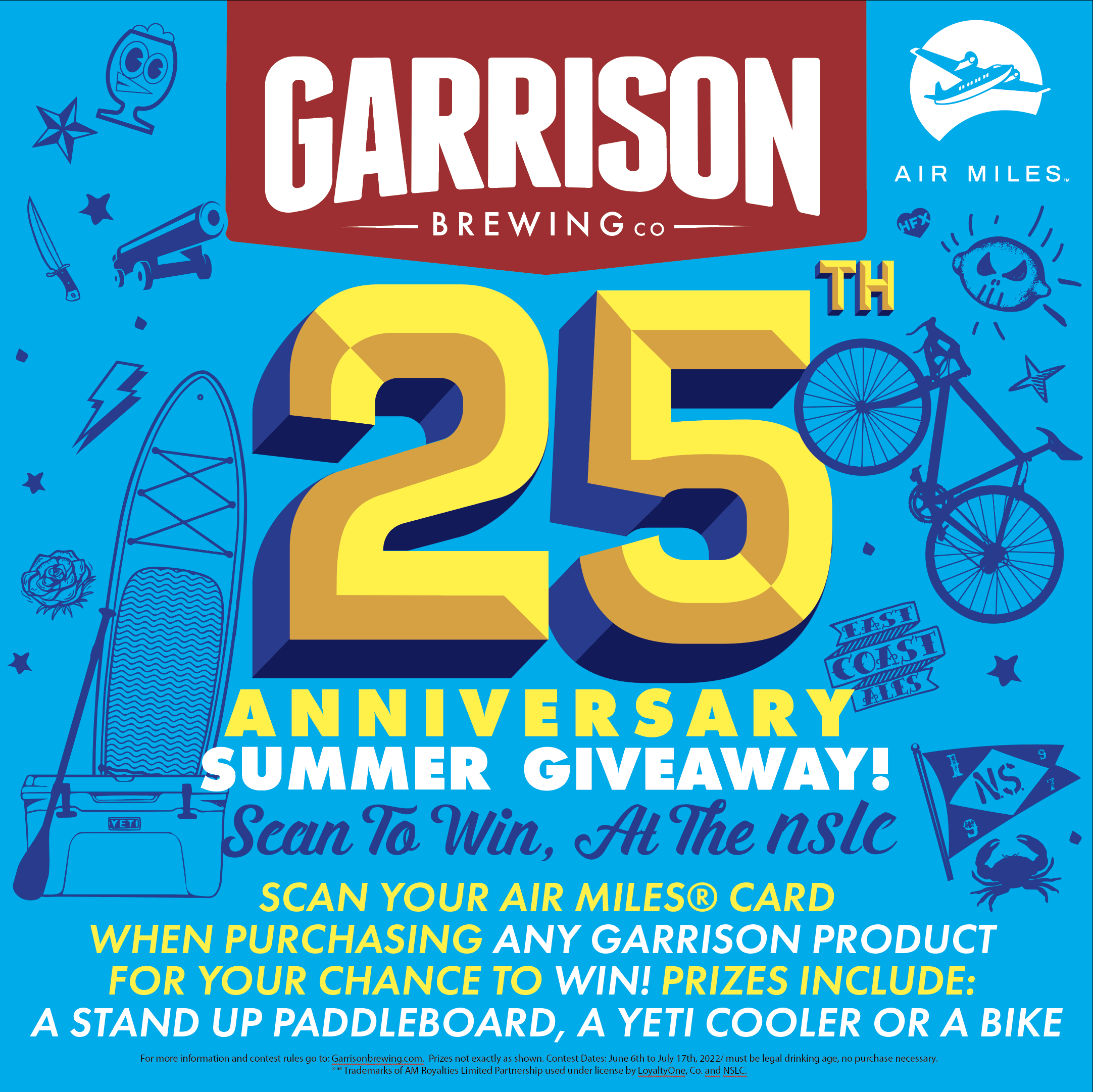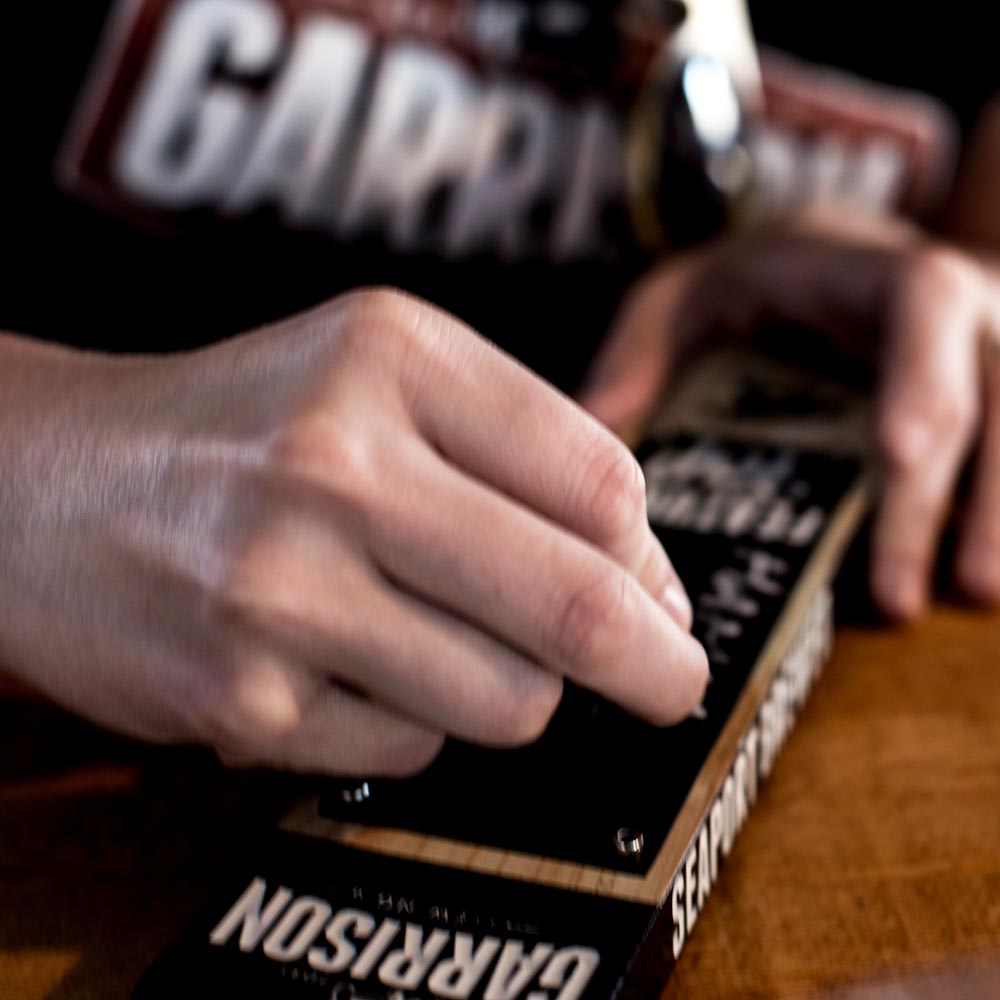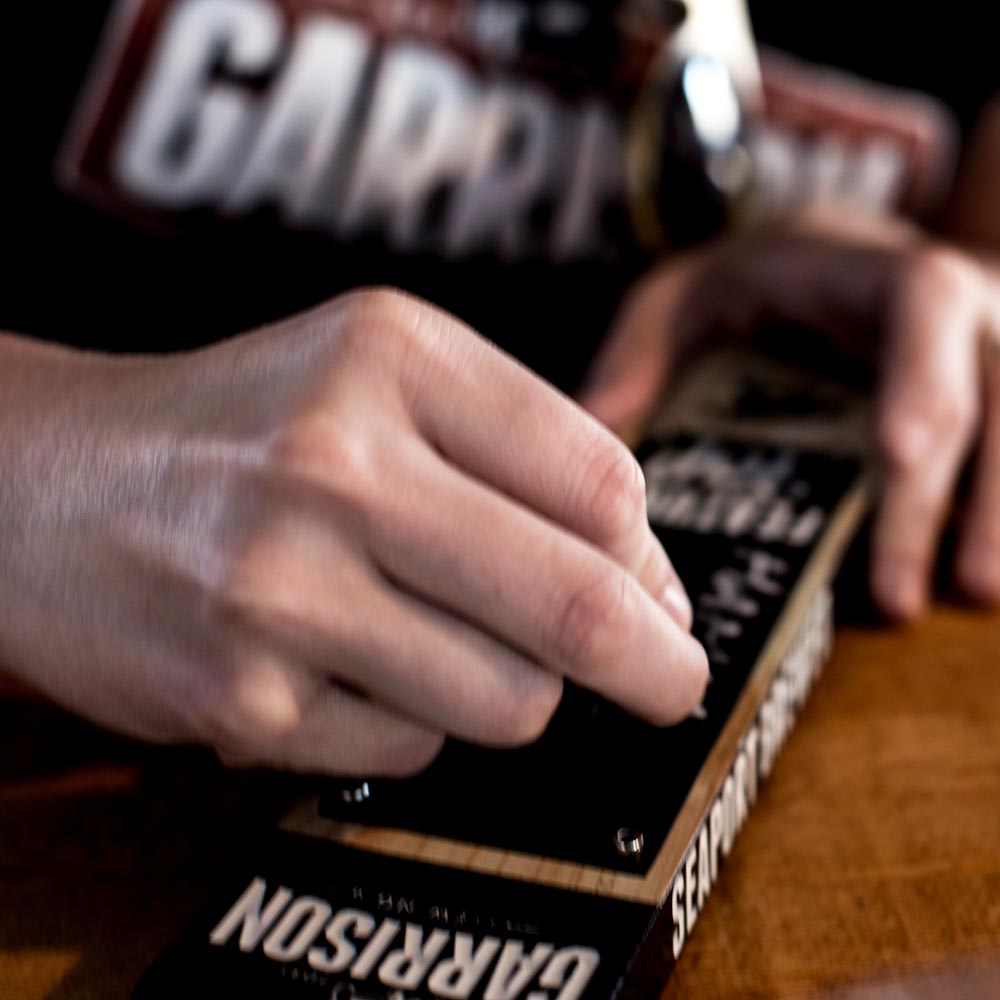 Check Out our amazing news on the New Oxford Taproom!
http://www.garrisonbrewing.com/wp-content/uploads/2019/02/The-Oxford-Press-Release-.pdf
For Immediate Release
Tuesday, February 12, 2019
Long live The Oxford on Quinpool (Part 1)
Garrison Brewing set to open new Taproom in Halifax this Spring!
(Halifax, NS) — Garrison Brewing, one of Halifax's original craft breweries, is answering the call of west-enders looking for a place to gather and socialize. Centered in the old Elegant Touch Beauty Salon, and attached to the iconic Oxford Theatre, Garrison's new venture will include a pilot-brewery, street-front taproom and retail store, backyard terrace and second floor community space.
As homage to the 82-year old building, Garrison's new venture will be aptly called The Oxford. With its vintage, speakeasy vibe and classic cinematic elements, the taproom space will evoke the Oxford Theatres important past. Exposed brick, 14' wood ceilings and vintage subway tile will add character to a small test brewery and wide range of locally crafted Garrison beer and cider.
"We're excited and honoured to breathe new life into such a landmark space while celebrating its amazing history. The taproom will be a comfortable and welcoming throwback to old Hollywood, and you may even recognize some classic items from the original Oxford theatre," says Brian Titus, President of Garrison Brewing.
Scheduled to open in late Spring 2019, the space will provide locals in the area with a family (and pet) friendly place to fill a growler, sample fresh craft beers, or host a community event. The Oxford will have a limited offering of snacks; however, patrons will be welcome to order-in food from the many great neighbouring restaurants. "Change and development are coming to the area, but Quinpool will always be known as a great food destination" says Titus. "Many of the surrounding restaurants have been long-time customers of ours and we look forward to promoting them through pop-ups and catering".
"I am sure I speak for everyone on Quinpool Road when I say that we are absolutely thrilled that the building will not be demolished," says Karla Nicholson, Executive Director of Quinpool's Mainstreet District Association. "The Oxford development is definitely exciting, and we look forward to seeing many of our businesses benefit from it. It's also exciting that community groups and non-profits, like our Association, will have a place to meet and collaborate on Quinpool."
The building and property were purchased over a year ago by Quinpool veterans and promoters, the Nahas family (King of Donair). Their vision has always been to see the building renovated and remain a long-term asset for the community. In addition to The Oxford taproom, plans are nearly complete on a development within the original theatre space. Details on this equally exciting venture will be announced shortly, but it is also anticipated to be a family- friendly business for community gathering.
For updates on design, renovations and finishing touches, follow us socially here: @oxfordtaproom.
-30-
About Garrison Brewing Company
Since 1997, Garrison has strived to create exceptional craft beer – real beer made with passion, hard work and East Coast pride. Garrison offers an exceptional range of premium and distinctive beers, all crafted in the historic Halifax Seaport and (soon) at the Oxford Theatre building on Quinpool.
For more information, contact:
Justin Zinck, Garrison Brewing
(902) 802-8582 / jzinck@garrisonbrewing.com
Wendy Phillips, Phillips Public Relations Ltd. (902) 492-0960 / wendy@pprl.ca